2024 Enrolments are now open. Enquires welcome. Please phone
9457 2259

About The Facilities
Heidelberg Primary School is well resourced with digital technology. HPS is proudly an Apple school with each classroom equipped with an Apple TVs, MacBook's, iPads and iMacs. Year 4-6 students engage in a Bring Your Own Device program which proves to be invaluable when extending learning home via the use of Google Classroom.
Both the physical environment and the learning programs are organised to facilitate four collaborative learning communities. In 2022 the school has four Foundation classes, eight Junior classes (4x Year One and 4 x Year Two), seven Middle classes (4 x Year Three and 3 x Four) and 6 Senior (3 x Year Five and 3 x Year Six) classes.
Geographically the school is zoned to naturally support each of the four learning levels.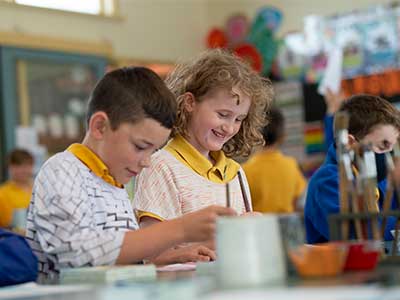 The school is equipped with:
twenty-six dedicated classrooms
a visual arts room
a science room
a library
a school hall
a dedicated Out of School Hours room
covered Outdoor Learning Area (COLA)
large Tigerturf play area, with basketball court
covered multi-age playground
junior sized soccer pitch
The covered and heated swimming pool, currently leased by Learn to Swim, is located on the school site. This is of great benefit to our community, as it provides greater access to an extended swimming program for our students and reduced cost due for families as the students can walk to lessons. The school is within walking distance of Heidelberg Park and the Warringal Parklands, with walking trails and wetlands.